My daughter has recently shown some interest and excitement around marine mammals and the ecosystem that comprises our oceans. So my wife and I thought it would be a good idea to take the family to the New England Aquarium to see some of the new exhibits since our last visit several years ago. We visited during Christmas vacation week and if there is only one takeaway that you get from this post, it is this :
DO NOT VISIT THE AQUARIUM DURING SCHOOL VACATION WEEKS!
I have been to the New England Aquarium many times over the years and I truly do enjoy going. The exhibits are interesting and informative, and I learn something new each visit. However, the sheer crowd of people packed between the walls during a winter school vacation is completely insane.
We first noticed a problem outside the aquarium when the line to purchase tickets was over 30 minutes long. Think of waiting in line for Space Mountain at Walt Disney World, except now it's freezing outside and there is no roller coaster at the end. Fortunately, there is an alternative. Purchase your tickets online and skip the wait. If you are due a discount and choose to endure the line for a few bucks off the admission, you may regret the choice.
Exhibits
The New England Aquarium has a nice array of permanent exhibits on display. The penguin exhibit will be your first encounter when you enter the main hall, which features African, Rockhopper, and Little Blue penguins. Kids will enjoy watching the birds dive from the rock pile and "fly" through the water with a grace that most fish cannot reproduce. Biologists usually feed the fish twice per day and give an informative talk during the process, which is pretty cool.
In the center of the penguin exhibit is the Giant Ocean Tank, a four story, 200,000 gallon home to over 1,000 Caribbean reef animals including stingrays, eels, and Myrtle the Turtle. Myrtle has been living in the tank since it opened in 1970 and can often be seen swimming near the surface. One of the more interesting events is when SCUBA divers enter the tank to feed the animals. These times will be printed on the visitor map and guide that you receive upon entry.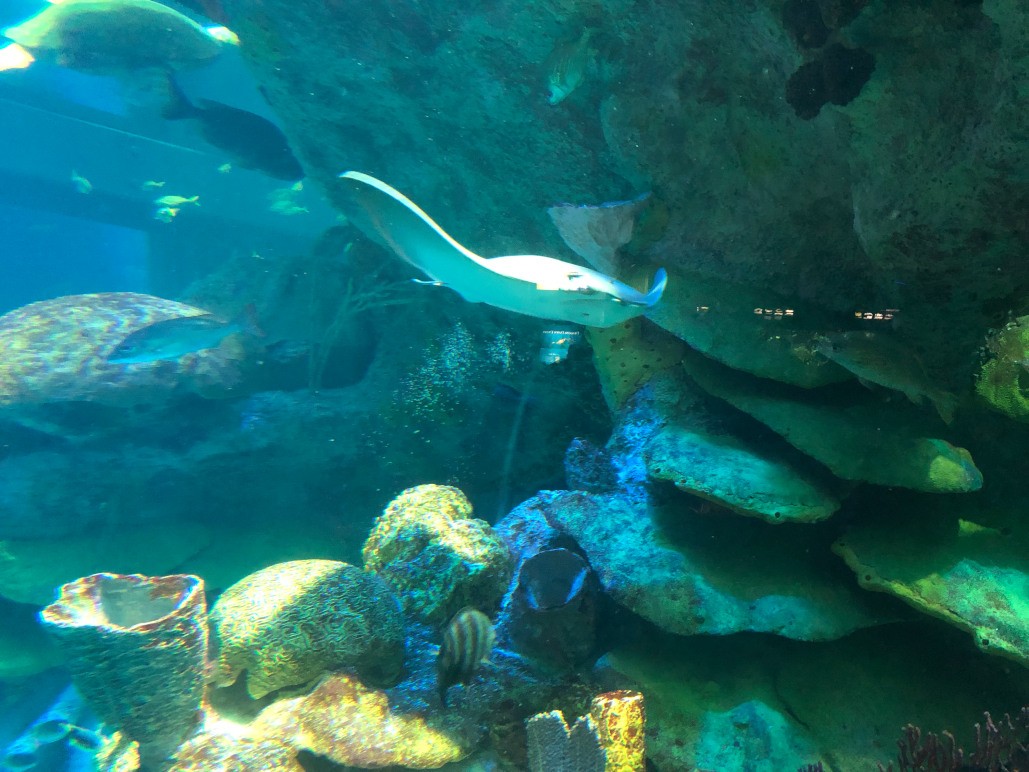 Giant Ocean Tank
This central exhibit holds 220,000 gallons and is home to over 1,000 fish, turtles, and other sea creatures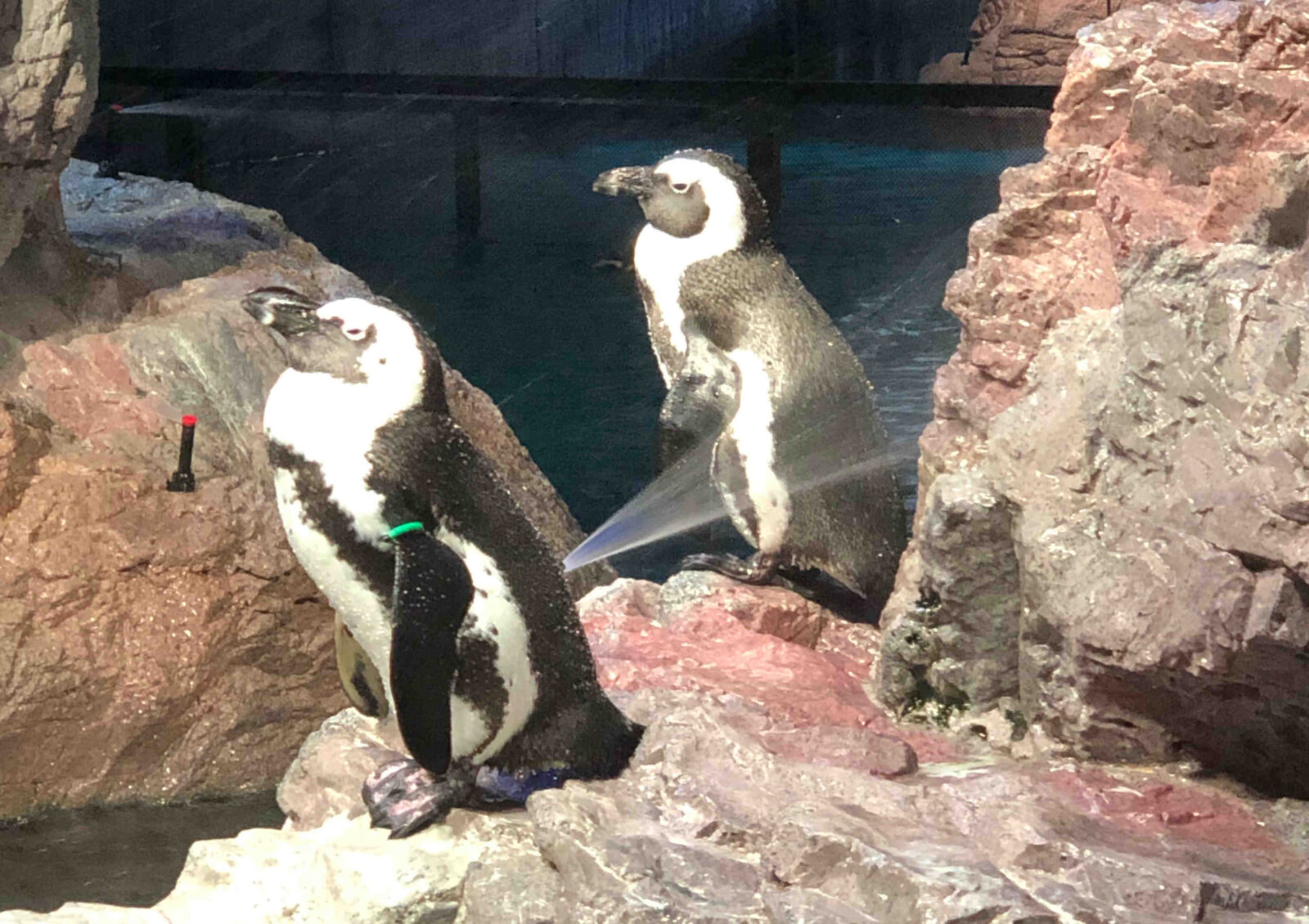 African Penguins
Visitors will enjoy watching these aquatic birds "fly" through the water. Biologists feed the penguins twice per day and give talks about their habits and behaviours.
Animal Encounters
One neat addition to the NEAQ in recent years is the large touch tank featuring a large number of stingrays and a few nurse sharks. This is a popular attraction where the kiddos can really get some hands-on experience with the animals, as well as listen to staff talk about the rays. Unfortunately, there is no opportunity to feed the rays, but there are plenty of them in the tank and no shortage of opportunity the kids to reach out and pet them.
If you would like a more in-depth encounter with the marine animals, the NEAQ offers a few programs that you may want to consider for an additional cost. Reservations for all of these programs should be made in advance due to their popularity and limited group size, often limited to two per session.
Simons IMAX Theatre
My favorite part of our visit was definitely the Simons IMAX Theatre. After moshing with the crowds in the main gallery hall, having a reserved seat in the theatre was a little bit of heaven. The theatre shows a few different films throughout the day, and we chose Oceans 3D: Our Blue Planet, which runs for about 45 minutes and showcases the lives of some of our aquatic friends including dolphins, whales, and some smaller fish that show more intelligence than we might expect.
Like any museum film, Oceans is educational and designed to get viewers to care about our planet's largest natural resource, but does so in a way that is not preachy at all. Mostly, you will feel entertained by the interesting stories and really cool 3D effects. I recommend seeing an IMAX film during your visit. It is totally worth the price of admission.
Suggested Lunch Venue
The NEAQ has on onsite cafe that has the typical kids fare, including burgers, hot dogs, and chicken fingers. But with so many good restaurants nearby, I would recommend that you merely walk across the street for some much better options. During our visit, we were extremely happy to leave the crowds for a bit and eat at the Granary Tavern, located just outside the aquarium. This place is kid friendly and has a wide selection of pub food and beer/cider on tap for weary parents. All of our meals were very good. 
Overall, our visit to the NEAQ was sort of a bust, but only due to the massive crowds. I can't stress it enough. Do not visit during school vacation weeks. It is simply a waste of money…lots of it. You will not be able to enjoy the time. If you have any flexibility, take the kiddos during the week. They will be able to learn lots more, and have much more fun in the process.
Knockabout Boston Audio Tour
Take a self-paced walk through Boston's most historic neighborhoods. Includes all audio files streamed directly to your smartphone. No apps, no accounts, no passwords to remember.