Originally posted on November 28, 2020 and updated on January 6, 2022.
Military service members and retirees will want to consider staying at Shades of Green during their next family vacation to Walt Disney World in Orlando, Florida. For many families, a trip to the House of Mouse is a costly adventure, but eligible service members have the option to stay at one of the Armed Forces Recreation Centers on Disney property for a fraction of the cost of a comparable Disney resort. Originally built as the Disney Golf Resort, it was sold to the DoD in 1996 as the first stateside military resort.
Does Shades of Green Feel Like a Military Installation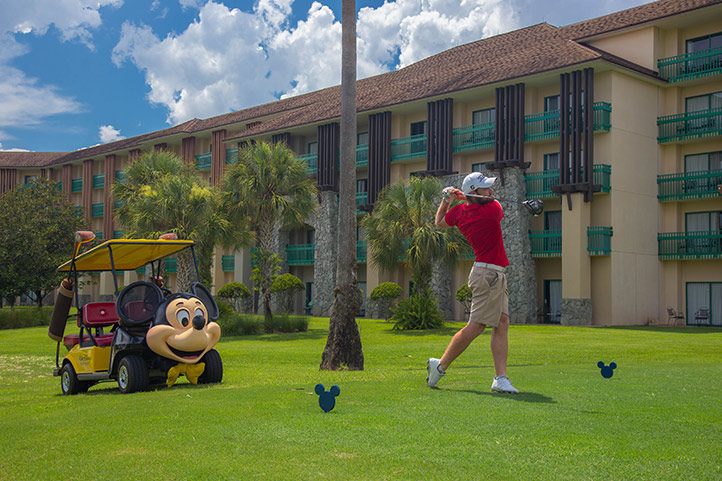 Disney's Palm and Magnolia Golf Courses surround Shades of Green. Military members receive 15% discount to play.
Those considering Shades of Green for the first time invariably have one looming concern: Does it feel, look, or otherwise give off a military vibe? After all, it's your vacation. You want to be free of the military for a week, right? Good news. My family and I have stayed here on five different occasions and it's about as casual as it gets. Besides a higher than average number of short haircuts walking around, you won't even know that this is a Department of Defense property. You also might not realize that you are at Walt Disney World, either. Shades of Green has a few Disney decorations in the main lobby, along with a television where kids can watch classic Disney flicks, but other than that, you won't find a lot of Mickey here.   
One surprising observation that you will have at Shades of Green is the surprisingly relaxing nature of the resort. For a Walt Disney World resort, there are fewer children here than you might expect. Maybe it's the high percentage of military retirees that stay here without children, or perhaps it's simply because the resort does a good job of spreading its guests out over a very large area. Compared to other resorts such as the Polynesian, which you will surely visit to catch the monorail or enjoy a Dole Whip, Shades of Green is a country club. More space. More quiet.
Should I Stay at Shades of Green, or a Disney Value Resort?
The prices are comparable. Because pricing at Shades of Green is rank dependent, some service members might even pay less at a Walt Disney World value resort such as Disney's Pop Century or Disney's All-Star Sports Resorts. However, these resorts have smaller guest rooms, less total space, and food court only dining options. They are also notorious for having worn-out, screaming kids running through the property. Shades of Green simply offers more in a relaxing environment that is completely welcome at the end of a Disney day. You might enjoy the break from the constant Mickey theme. But rest assured, you can still feel like you are in the "Disney Bubble" while staying at Shades of Green.
At the time of this review, the nightly rate at Shades of Green was $154 to $194 (based on rank), while the nightly rate at Disney's Pop Century for the same dates was $220.50. With a military discount of 30% off of Disney's value resorts, that brings the cost to $154.35. Roughly equal, but don't forget 12.5% Florida sales + resort taxes. At Shades of Green, there are no added taxes. The price you see is the price you pay.
Bottom line: Shades of Green is a better deal. It compares with some of the Disney Deluxe resorts such as Animal Kingdom Lodge. Unless you really want to immerse yourself in fairy dust and magic, you should definitely book here.
Shades of Green
Full-Service Restaurant

Sports Bar

Two Pools

Indoor Room Access

Exchange/Class 6

Spa

Balcony or patio

Disney Dining Plan

Magic Bands (not included)
Disney's Pop Century
Example Value Resort
Food Court

Pool Bar

Three Pools

Outdoor Access

Disney Skyway Gondola

Disney Theming
Shades of Green Guest Room Accommodations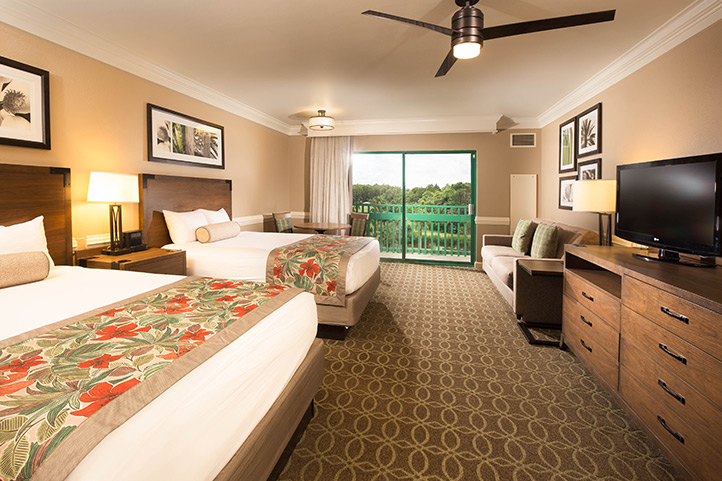 Standard Guest Room at Shades of Green
Each guest room is large by Disney standards at 480 square feet. That's enough to fit a family of four comfortably. Rooms are furnished with two queen beds and a single sleeper sofa. With families in mind, split bathrooms are common in many rooms so you can brush your teeth while your significant other browses wait times on the My Disney Experience app on the throne. Rooms also come equipped with a small refrigerator to store leftovers or drinks.
The resort underwent a major refurbishment in 2007 and has had intermittent updating to the guest rooms and common spaces at regular intervals since then. During my last stay for four nights over New Year's Eve 2022, I found that our guest rooms had recently been overhauled with new furniture and looked great. One downside was the mattress and linens. The mattress was firm to say the least, while the bed sheets were a bit rough. Jumping into bed did not conjure images of luxury, but by the second night, I didn't care, and overall it was a minor drawback.
Resort Amenities at Shades of Green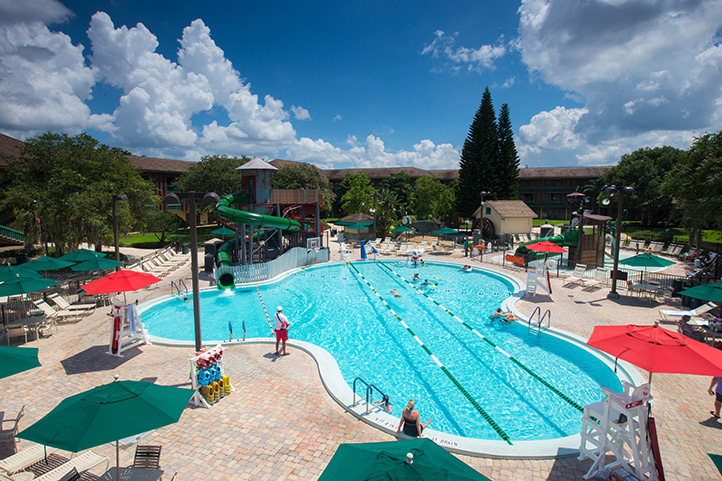 The Mill Pond Pool features a water slide and a large patio for lounging.
Pools
Shades of Green has a variety of niceties to make your Walt Disney World vacation a pleasant experience. The resort has two full-size, heated swimming pools. The zero-entry, or walk-in Magnolia pool is generally less crowded, with a relaxed atmosphere and nearby hot-tub. The Mill Pond Pool has a fairly large water slide and splash pad, as well as a shallow toddler pool where families can hang out. There is also an arcade located at Evergreen's sports bar, adjacent to the Mill Pool.
Ticket Service
Purchasing your tickets to Walt Disney World, Universal Studios Orlando, or any of the other attractions in central Florida can be handled directly on-site at Shades of Green. Of course, you don't just show up at Walt Disney World without buying tickets in advance. Purchasing your tickets greater than 60 days in advance used to be critical in order to compete for the most popular Fast Pass+ attractions. However, as of October 2021, the Fast Pass system no longer exists. It has been replaced by Disney's Genie+ Lightning Lane service that allows guests to purchase priority access to popular attractions. Genie+ can be purchased (or not) on the day of arrival, so advance ticket ordering is not critical to reserve ride times anymore. However, at least for the foreseeable future, guests will have to make reservations for each park that they want to visit, which requires a ticket in hand. So advance ticket ordering is still highly encouraged. This is done by filling out the ticket request form on the Shades of Green website and sending via email. The ticket office will verify your eligibility and then call you to complete the order. Tickets are then sent via FedEx so you can load them into the My Disney Experience app and begin planning.
Shades of Green is considered a Disney resort for most perks. You can participate in early arrival to the parks, as well as make your Genie+ selections at 7:00 am on each day you will visit the park. Non-Disney resorts have to wait until 9:00 am. In order to take advantage of this perk, you will need to link your Shades of Green reservation to your ticket on the My Disney Experience website. This function seems available in the mobile app, however, with Shades of Green it does not work. You will have to use a desktop or laptop in order to complete this step. This is a disadvantage of the resort not being a native Disney property and using different reservation systems. However, rest assured that it still does work. 
Shades of Green also sells tickets for Universal Studios, Sea World, and other Orlando area attractions. The one park for which you do NOT want to purchase tickets here is Sea World, which allows one free day of admission for each service member and up to three dependents every year. Get your free passes by clicking HERE.
Fitness Center
Shades of Green has a sizable fitness center with treadmills, bikes, and strength training equipment. Whereas many hotels have a workout area that consists of a half-broken treadmill and a pathetic multi-gym, you can get in a respectable workout at Shades of Green. A 3.1-mile jogging trail that runs along Disney's Polynesian and Grand Floridian Resorts is also accessible from Shades of Green.
Spa
Whenever our family has gone to Walt Disney World, we take one day to simply hang out at the resort, go for a walk or run, and avoid the crowds. Shades of Green has a full service spa to help recharge your batteries that includes massage, facials, and hair and nail services. All services are priced for the real world rather than "resort pricing." While I have never taken advantage of the spa here, I have to admit that the massage with the hot stones looks pretty tempting. Maybe next time.
Transportation Throughout Walt Disney World
Shades of Green operates its own network of busses that run throughout Disney property. Busses to and from the Transportation & Ticket Center run every 20 minutes, which gets you to the monorail for the Magic Kingdom and Epcot. Service to other locations including Hollywood Studios, Animal Kingdom, Disney Springs, and waterparks operate on a 30-minute schedule. For these locations, timing your departure is a bit more important, but there is always a cheap Uber nearby if you miss your bus.
Shades of Green is also located directly across from the Polynesian Resort, where you can hop on the monorail. Walking there takes 10-15 minutes, mainly to negotiate the long driveway into Shades of Green. If the bell service is not too busy, you can stop at the desk and ask for a shuttle to the front of the property, cutting off several minutes. However, with bus service running as frequently as it does, you won't have to do this unless you enjoy the walk.
Rental Car
Many families will not need a rental car when vacationing at Walt Disney World. However, you may want to venture off Disney property for the day to take advantage of your free Sea World tickets, visit Universal Studios, or check out downtown Orlando. Shades of Green has an on-site rental car service where you can pick up some wheels and go wherever you would like.
Exchange On-Site
A small store is available where you can purchase some of the items that you will need for the week. Rain ponchos, mouse ears, snack food, and beverages are available. Beer, wine, and liquor are also sold to keep in your room, as is ibuprofen for the morning after.
Arcade
Co-located with Evergreens sports pub, the arcade has a decent selection of video games, pool tables, air hockey, and foosball.
Shades of Green has several places to eat, from grabbing a quick bite on the go-to sitting down to a table service meal. Food prices at Shades of Green is generally lower than what you will find at the theme parks or Disney Resorts, and while you won't find the best meal of your vacation here, the quality is generally good. Besides, it's Disney – you're eating turkey legs and Mickey bars all week. My family has sampled menu items from all of the restaurants here, and have had no major complaints.
Mangino's
Featuring Italian cuisine, steak and seafood dishes, this is Shades of Green's full service restaurant. It's a good option if you want to have a sit-down family meal together. The atmosphere is OK, and it's generally pretty quiet at Mangino's.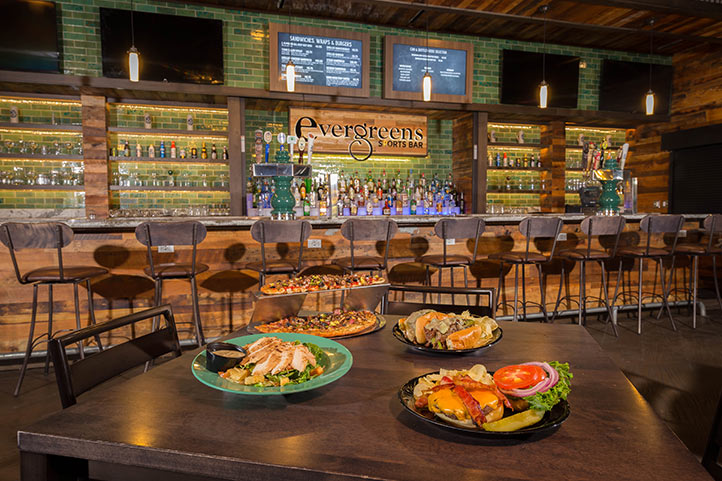 Evergreens has full bar service, pub food, and live sports.
Evergreens
This is Shades of Green's sports pub, located next to the Mill Pool. Here, you can find pizza, burgers, and other pub fare along with pitchers of beer and a full bar. Several televisions line the walls playing live sports. This is a great hangout for families that want a casual meal or adults that want to sit at the bar and catch up. Three of the six times that I have stayed at Shades of Green, I have bumped into old friends that I have served with or met at Army schools. Evergreens is the place where we go to catch up and tell stories. This is my favorite location at Shades of Green.
The Rest
Garden Gallery – Breakfast and dinner buffet with plenty of options for everyone. Breakfast menu features omelettes made to order and waffle stations. Dinner options rotate, with a different theme each night of the week.
Express Café – Running late, or maybe you just need a quick pastry or sandwich on-the-go? Located near the bus stop, this is an ideal place to grab a bite before enjoying your day at the parks.
Java Café – Typically, this is where you will come for Starbucks coffee, probably every morning of your vacation. Espresso coffees such as Americano and cappuccino are also available. But this small kiosk also serves ice cream in the afternoon and has a couple of beer taps and wine selections to enjoy in the common areas or back at your room.
Bistro to Go – At Walt Disney World, you will have to spend a lot of time waiting in line. That's just the way it goes. But if you have had enough waiting around for the day, then this may be the way to go. Open for breakfast and dinner, the bistro offers a full menu of hot breakfast items and entree dinners, sandwiches, and pizza that you can pick up at the counter and take to your room or one of the poolside tables. Beer, wine, and cocktails are also on the menu for takeout.
Let's wrap it up by saying that if you are eligible to book a vacation at Shades of Green, then I do recommend it. It is considered to be on par with Disney's Deluxe resorts in terms of amenities. If the pricing were equal, I would probably choose the Grand Floridian or the Polynesian, but it's not. Even with a 40% military discount at Disney Deluxe resorts, it's not even close. Disney's moderate resorts like the Caribbean Beach Club are also significantly more expensive. Disney's value resorts come close but offer much less.
If you have had a recent experience at Shades of Green or have any questions, let us know in the comments.
My Walt Disney World Prep to Go Picks
Below are a few of my favorite items to grab before you head to the airport (disclaimer: affiliate links included).
Water filter bottle: The tap water in Orlando is gross. It tastes like sulfur. While you can get a case of water at the Exchange while at Shades of Green, one of these Brita bottles eliminates the need to carry extra water, pay mafia prices, or die of thirst while at the parks.
 Poncho: It rains nearly every day in summer. These are very popular at the parks, but they are expensive, and when needed, everyone is buying them all at once. Better to pack them in ahead of time.
Portable Charger: One downside of a Disney vacation is that you are always on your phone. Checking the app for wait times, Lightning Lane passes, food reservations and mobile ordering, not to mention just messing around while in the attraction queues. I like this model because it has the charging cables included. Less to carry and clutter up your pockets or bag.
Birnbaum WDW Guide: There is a regular and a kids version. This version for the kiddos will get them excited weeks or even months in advance. It's a great way to get the whole family excited. We have purchased many editions of this guide, and it has always been a good purchase.