If you are looking for things to do in Newport, Rhode Island, then you won't have any shortage of activities. Newport has long been a summer destination for those seeking escape from the cities of New York and Boston, and was once the summer retreat of high society millionaires during the Gilded Age, from the 1870s to the turn of the 20th century. Those days are long gone, and although it always helps to have deep pockets while traveling through Newport, it's no longer required. The average visitor today can find plenty to keep them occupied during a long weekend or even a week-long summer holiday.
Pedal a Railroad Cart with Rail Explorers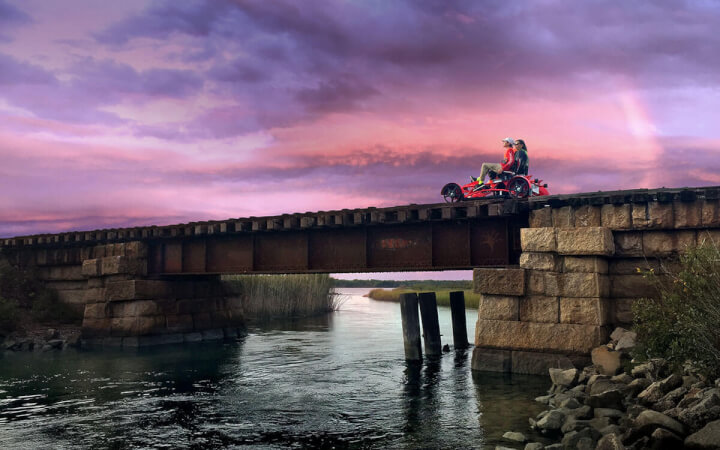 Photo courtesy of Rail Explorers
Start your trip to Newport with some outdoor activity. While many towns have stripped away the old railways and transformed them into Bikeways, the tracks around Newport are still in active use. But instead of a locomotive transporting you down the rails, you will pedal a custom-made buggy that fits either two or four riders. It's like pumping one of those old-timey hand carts from the cartoons, but you pedal instead.
Rail Explorers has several tour options from 90-120 minutes in duration. Guests can enjoy a morning brunch tour, afternoon tour, sunset, or nighttime fireside tours.
One of the most popular things to do in Newport, RI, is to walk this 3.5-mile path along the rocky coast with exceptional views of the Gilded Age mansions that once housed families with names like Vanderbilt, Belmont (of Belmont Stakes fame), and Astor.
The Cliff Walk has been a public access trail for well over a century and is free for all. The northern 2/3 of the trail is a relatively easy walk, while the southern 1/3 is unpaved, rough, and with some steep drops nearby. But not to worry. Walkers can exit at several points along the way and choose the sections that they want to visit.
There is a considerable history of the Gilded Age in Newport and how society functioned back in the day. The best way to explore the Cliff Walk is by purchasing the Cliff Walk Audio Tour by Knockabout Travel. It contains an interactive map, photos, and narration throughout the duration of the tour depicting the mansions of historical significance, the families that resided there, and what life might have been like in their heyday. The tour is narrated by me and each point of interest is GPS triggered, automatically starting each track as you walk.
Newport Cliff Walk Audio Tour
Take a self-paced walk through Newport's most popular travel attraction. Explore the Gilded Age mansions built as summer homes from the era's Titans of Industry. Enjoy breathtaking views on Narragansett Bay throughout the entire walk.
The tour includes over 60 minutes of audio narration and is GPS enabled, triggering the audio to play at the correct time and place.
Cruise Downtown Newport in a Scoot Coupe
If you are walking around downtown Newport, you will notice a number of GoKart-like buggies cruising the streets. Called a Scoot Coupe, a novel thing to do in Newport is rent one of these and take it around town.
Scoot Coupes can fit a driver and one passenger and are perfectly legal to ride on the roads. They can reach speeds of 25-30 mph, which is fast enough for riding around downtown Newport. Rentals from Scooter World are $50 for the first hour and $40 for each additional hour.
Take a Sailing Charter or Harbor Cruise
Newport is known as the "Sailing Capitol of the World," so why not see what it's all about on an afternoon or sunset cruise. Sailing Excursions has two first-rate vessels that let you experience the beauty of Newport Harbor and Narragansett Bay. Sailings depart from Bowen's Wharf in downtown Newport, so you can grab lunch or dinner there and then head out on your cruise. Beverages are available for purchase onboard.
Take Part in a Murder Mystery Theater Show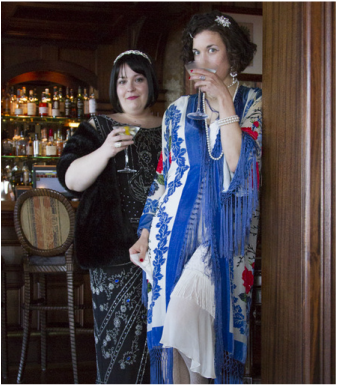 Not all theater is performed on a stage. The Marley Bridges Theater Company lets the audience participate in a live-action mystery where guests search for clues and "take a stab" at whodunnit. Marley Bridges hosts shows at multiple locations in Newport including "Murder on the Rails" aboard the Newport & Narragansett Railroad Co. They also perform at the Newport Art Museum and aboard a 50-foot fishing vessel in Narragansett Bay.
For those who want to really dive into the action and enjoy a truly unique weekend, Marley Bridges offers three-day mysteries that include accommodations at the Architect's Inn, meals, and clues that lead you to some of Newport's most popular points of interest.
Tour one or more of Newport's Gilded Age Mansions
The Breakers is Newport's largest Gilded Age mansion. A free audio guide is included with admission. Bring a pair of headphones.
Of the many things to do in Newport, RI, this one had to make the list. You know about the famous "summer cottages" of the Gilded Age, where the nation's most wealthy came to escape the city for a few weeks each summer. As these millionaires began having to comply with new federal regulations such as income taxes and minimum wage laws, along with the onset of the Great Depression, these monuments to themselves became financial burdens. Many were donated or sold for pennies on the dollar to the Preservation Society of Newport County as a result. Several of the grandest mansions including the Breakers, Elms, and Marble House are now public museums open to visitation.
Basic tours of the mansions are self-guided using the audio tour within the app. Live tours are also available such as the Vanderbilt Family Tour at the Breakers, or the Servant Life Tour at the Elms.
Go Shopping on Thames Street (grab a drink while you're there)
Thames Street is the hub of commercial activity in Newport. Here, you can find shopping retailers from well-known brands like Banana Republic and Lulu Lemon, to locally owned mom and pop shops. On Thames Street, one can find everything a tourist destination can offer like Newport memorabilia, locally made art, and treats like ice cream and house-made fudge.
What's even better is that you can break up your shopping spree by ducking into one of the many bars and gastropubs that line Thames Street. These eating and drinking holes have great atmosphere and plenty of cold beer on tap.
Taste the Local Beer and Wine at a Tasting Room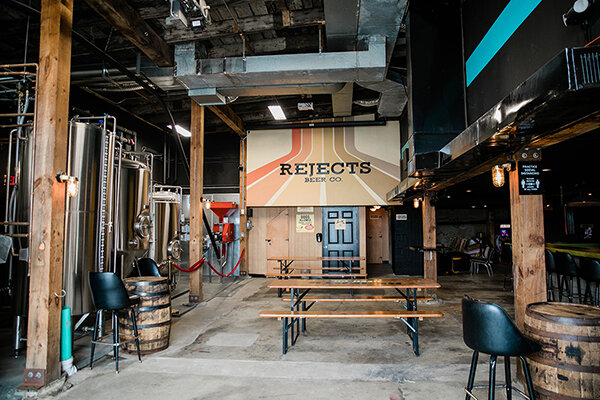 Photo courtesy of Rejects Beer Company
The craft beer scene has exploded just about everywhere over the past several years, and Newport has certainly jumped on the trend. Within a short drive from downtown Newport, you can find yourself in one of the local taprooms that serve amazing brews.
Closest to downtown is Rejects Beer Company. With a large bar and several picnic tables scattered about the brewhouse floor, guests can enjoy a number of draft beers including IPA, stout, and German lagers and sours in a casual, industrial setting.
A few miles north of town is the Newport Craft Brewing & Distilling Company which sports a large tasting room with a dozen beers on tap and an outdoor pavilion with bar space, tables, and lawn games. Newport Craft Brewing & Distilling, as its name implies, also produces some fine rums, vodka, and gin so cocktails are also on the menu. Rotating food trucks are on site.
Grab a Bite to Eat at Bannister's or Bowen's Wharf
It's a bit difficult to determine where one ends and the other begins, but both Bannister's Wharf and Bowen's Wharf serve as Newport's commercial hubs. Visitors can find plenty of options here, from quick-serve ice cream and coffee to fine dining on the waterfront.
Some favorites include the Lobster Bar at the end of Bowen's Wharf which features views over Newport Harbor. The Wharf Southern Kitchen & Whiskey Bar is great for burgers and jambalaya but also serves New England seafood selections. Those looking for a traditional New England Clam Boil will find it at The Black Pearl. This mainstay of seaside destinations has steamer clams, mussels, boiled potatoes, corn on the cob, Portuguese sausage, and lobster tail.