Boston Itinerary: USS Constitution to the Prudential

Gregg Squeglia, Knockabout Travel
This Boston walking tour will have you traveling through time as we start with one of Boston's best historical attractions. Then enjoy a ferry ride across Boston Harbor to the waterfront where you will enjoy some classic architecture, New England's largest IMAX cinema, and the best view in Boston from the city's second tallest building.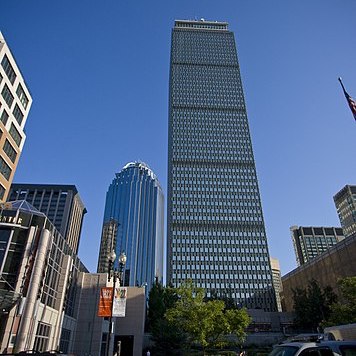 The Prudential Tower in Boston's Back Bay neighborhood.
Boston Public Garden: Walk through Boston Common to America's first public botanical garden. Enjoy the green space and flowerbeds, take a swan boat ride, or just have a seat on a park bench with a pretzel or hot dog from one of the street vendors.
Copley Square: Hang out at one of Boston's most popular outdoor gathering places. Plenty of vendors line the perimeter of the square, selling everything from fresh fruit to souvenirs. If you are a fan of classic architecture, then this neighborhood will not let you down. The Boston Public Library is considered a masterpiece of 18th-century architecture. You do not need to be looking for books to enjoy the library. The building itself is the attraction. In addition, Trinity Church is located adjacent to Copley Square and has been named by the American Institute of Architects as one of the most important buildings in America. Whether you are religious or not, you will have a healthy appreciation for the detail that went into its construction and the sacred atmosphere it creates. Drop-in tours, either guided or self-guided are available Tuesday-Sunday.
Prudential Center: Includes a large, upscale shopping mall and restaurants. Across the road is the Christian Science Center which has a large plaza with a reflection pool and beautiful architecture to enjoy, as well as the Mapparium. (Note: The Prudential Tower's Skywalk Observatory is now permanently closed and in the process of being reimagined).
"Chinese food in Texas is the best Chinese food in the United States except Boston."
-John Updike, Author
It's true. You cannot beat the Chinese food in this town, so be sure to have lunch in Chinatown as you walk this itinerary, or come back for dinner after hanging at the hotel room for a bit. I highly recommend Q Restaurant if you'd like one more recommendation.
Use this map to assist with navigating. Walking is the recommended method of travel.
The USS Constitution is the US Navy's oldest comissioned ship
Knockabout Boston Audio Tour
Take a self-paced walk through Boston's most historic neighborhoods. Includes all audio files streamed directly to your smartphone. No apps, no accounts, no passwords to remember.