Royal Caribbean's Oasis Class ships are amongst the largest and most popular cruise ships in the world. Offering a wide variety of activities and experiences in which guests can participate, their appeal amongst the cruising community is well deserved. A family, even a multi-generational family from boomers to grandkids will have no opportunity to claim that they are bored over a typical seven-night cruise.
My favorite Oasis Class behemoth is Harmony of the Seas. If you are considering a Royal Caribbean vacation in the future, then Harmony is a great choice. She debuted in 2016 as the third Oasis Class ship in the Royal Caribbean fleet with considerable upgrades from her sister ships, Oasis of the Seas and Allure of the Seas. But now that there have been a few newer ships launching, four of them to be exact, the value of sailing on Harmony of the Seas seems to be right in the sweet spot. You get one of the fleet's largest ships with most of the new technology and perks, with a bit of a discount compared to the newer ships.
Harmony of the Seas currently sails for seven-night cruises from its homeport in Port Canaveral (Orlando) but is projected to relocate to Fort Lauderdale in November 2022, and Miami in March 2023.
Note: Due to the cruise industry still ramping up operations in the wake of the pandemic and cruise shutdown, some activities mentioned here may not be available during your sailing.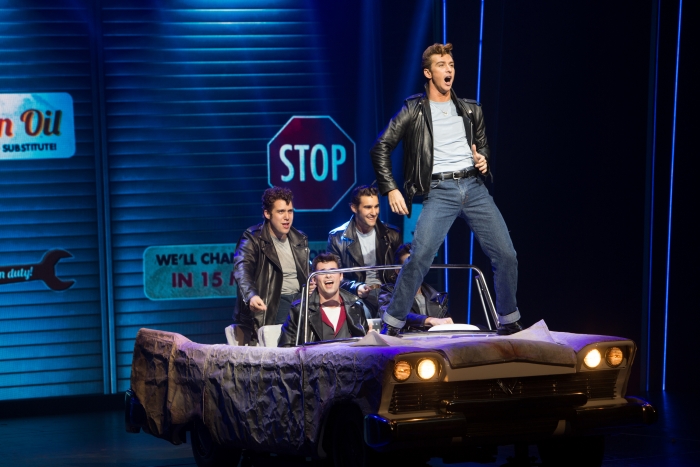 All of Royal Caribbean's Oasis Class Ships feature one Broadway-style show, and on Harmony of the Seas, Grease is the featured musical. This is a full-length production, not merely a medley of scenes and popular numbers from the original show. The play is shown in its entirety, and the Royal Theater venue rivals that of many premiere theaters on land. With elaborate stage sets and top-notch talent, it's easy to forget that these performances are miles out at sea.
Watching Grease onboard Harmony of the Seas was definitely a memorable moment of our family's Royal Caribbean vacation.  Grease is performed several times per week. Although reservations are not necessary, I would encourage using the Cruise Planner or Royal Caribbean app to reserve ahead of time in order to get a better seat.
2. See The Fine Line at the Aquatheater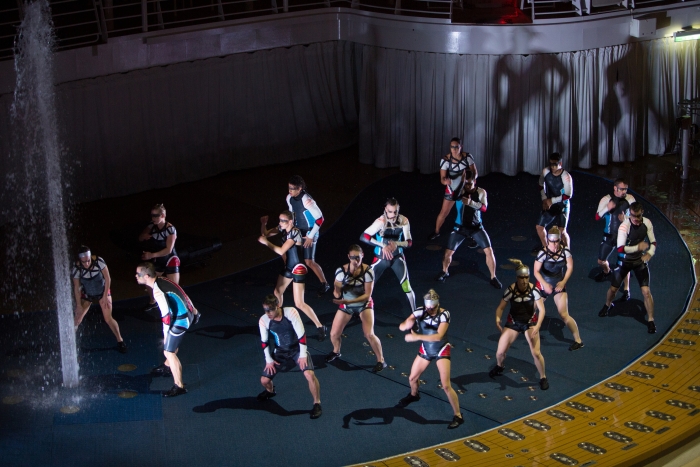 One of the most unique aspects of the Oasis Class ships is the Aquatheater. These shows are a bit hard to appreciate until you have seen them live. With a team of performing athletes including high divers, gymnasts, slackliners, dancers, and acrobats, The Fine Line delivers a performance that's a bit of a combination of the Olympics and the X Games set to incredible music and lighting.
My family and I enjoyed the Aquatheater shows so much that we saw The Fine Line twice, along with the other daytime show, Hideaway Heist.
3. See a Standup Comedy Act at The Attic
Unlike many other cruise ships, Harmony of the Seas has a dedicated comedy club located in the 'Entertainment Place' neighborhood on deck four. These comedy nights feature an opener and a headliner, both of whom are skilled in the arts of 'R' rated comedy. These are 18+ shows, but usually, Harmony of the Seas will also include a PG-13 show hosted in the Royal Theater toward the end of the week so younger audiences can enjoy a laugh.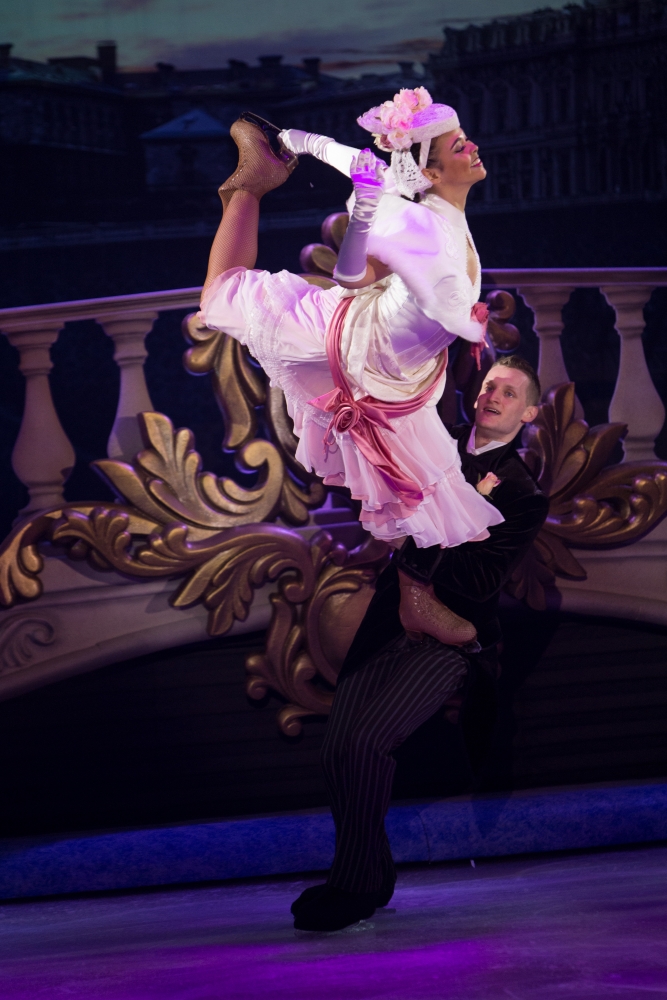 Ice performers onboard Harmony of the Seas in 1887. Royal Caribbean casts several Olympic figure skaters within its shows.
One of the unique features onboard Harmony of the Seas is the Studio B ice arena. Several times per sailing, guests can view a professional ice performance featuring top-level skaters including recent Olympic athletes and top-ranked figure skaters from around the globe.
The featured ice show is 1887 and tells the story of a young woman who travels through time to find love and discover the wonders that each time period offers. However, you do not need to follow the storyline in order to enjoy 1887. The performance is filled with impressive maneuvers and the show uses an array of lighting and projection mapping on the ice that is sure to hold your attention for the entire performance.
Towards the end of the cruise, the ice performers let it rip in iSkate, where they choreograph their own routines, set to the music that they choose. In contrast to the highly produced and synchronized performance of 1887, iSkate is a series of numbers with contemporary moves where anything goes and the athletes are able to showcase the entire range of their talent.
iSkate was one of my favorite performances onboard Harmony of the Seas. It's super fun to watch.
6. See Harmony of the Seas' Original Stage Production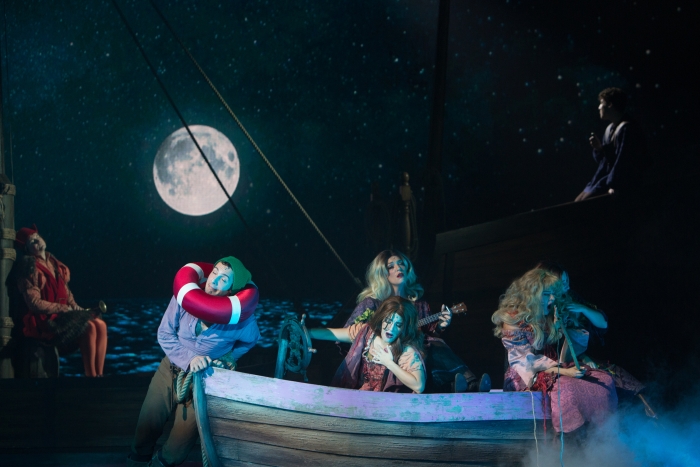 Each Oasis Class ship features a Royal Caribbean original production, and on Harmony of the Seas, it is Columbus, the Musical!. This comedy tells the story of Marvin Columbus, Christopher's cousin who set's out on his own journey in search of fame and significance. Marvin might not be the Columbus that we learn about in elementary school history class, but he shows us that we should never change who we are to be accepted and that we all have our own significant place in history. 50-minute run time.
Nine decks above the Boardwalk neighborhood is Harmony's zip line. Starting at the aft end of the ship near the Flow Riders, guests can zip a total of 82 feet across the sports deck. It's a quick ride, but it's free and you can go as many times as you want. You must be 52" tall and weigh less than 275 pounds to ride the zip line.
8. Hang Ten on the Flow Rider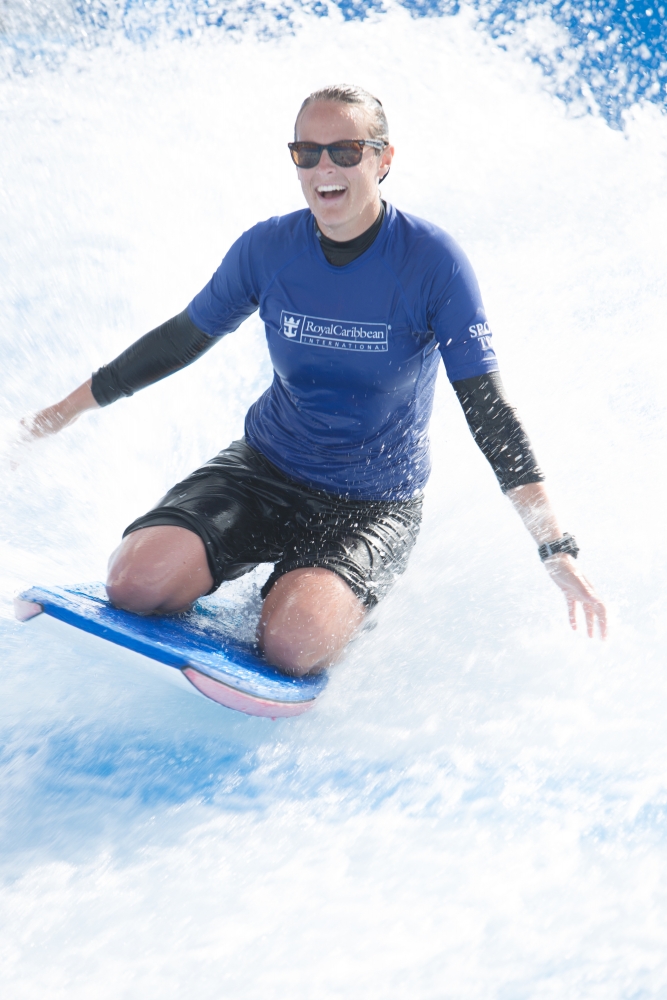 Harmony of the Seas, like all Oasis class ships, has not one but two Flow Riders. This extremely popular activity is a great way to kill time on sea days. One Flow Rider is used as a surf simulator where riders stand, while the other is usually split between two riders who body board. So even if you don't think you have what it takes to hang ten, you can still feel like Superman as you ride head-first through the waves.
Pro tip: Everyone does better on the Flow Rider after a few drinks. It's just science. Helps loosen up the joints. Try it…
9. Climb the Rock Wall (to the Top)
I used to be an actual rock climber in my earlier days, so I definitely had to give this one a shot. That's me in the photo. Harmony's wall is an impressive 43 feet tall, which may not sound like much, but when you reach the top and look out at the ocean, it feels a lot higher. Remember, you are somewhere around deck 10 when you reach the top.
This is another activity that is at no additional charge, so be sure to take advantage and conquer that fear of heights. Once you reach the top, or you fall, the safety rope slowly lowers you back to the Boardwalk. 
10. Enter a Belly Flop Competition
I can't say that I entered this competition, but I did watch. If you have the body mass to make an impressive splash, then this competition is usually held on the first sea day. Even if you do not enter, it's fun to watch. Whether flopping or just spectating, this one definitely is better with a few drinks on board.
It's true. You can actually get certified as an open water diver onboard Harmony of the Seas. The ship has a full-service SCUBA shop with professional instructors that will take you from never having breathed air from a regulator to being fully certified by the Professional Association of Diving Instructors (PADI). Royal Caribbean is the only major cruise line that offers this experience.
This is a commitment, however. You will take your classes at the pool very early in the morning, so if you are planning on partying all night long, then this course is not for you. You will also begin the didactic portion of the course prior to your sailing. But the chance to take your certification dives in beautiful Caribbean water is a sure-fire way to fall in love with the sport from the get-go.
Once you get certified, you can take future shore excursions to a whole new level. Cost is $599.
The ice arena is not only for the professional skaters, but you can have some fun on the ice as well. Studio B opens up a few times per sailing to offer open skate sessions. There is no additional charge for this activity, including skate rental.
13. Play a Round of Mini-Golf
While many of the sports deck activities have a minimum height requirement, mini-golf can be enjoyed by everyone in the family, regardless of age. Harmony of the Seas even has an area for younger golfers with kiddie clubs and easier holes to avoid frustrating the kiddos.
14. Get Soaked on the Perfect Storm Waterslides
Harmony of the Seas was the first in the Royal Caribbean fleet to feature the Perfect Storm trio of water slides. With two traditional tube slides and one "champagne bowl," this is a great way to cool off while hanging out on the pool deck. On sea days, lines can form, but nothing unreasonable. The best time to enjoy the water slides is while hanging out on board the ship while in port.
15. Enter a Game of Wits at Escape the Rubicon Escape Room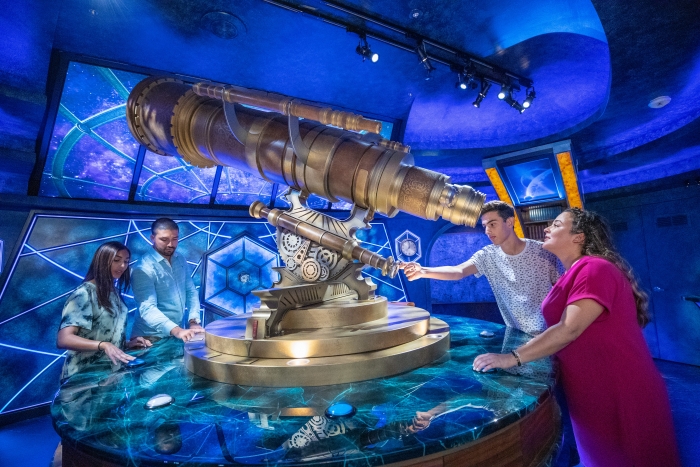 The escape room onboard Harmony of the Seas has been professionally designed by Puzzle Break, the original and leading designer of escape games. You and your partners will have 60 minutes to piece together the clues and solve the puzzle. Guests must be 12 years of age to participate.
This activity has an extra cost to play. At the time of our sailing, it was $10 per person. 
16. Ride the Ultimate Abyss Slide
Plunging 10 decks from the sports zone on deck 16 to the Boardwalk on deck 6, this is a dry slide where riders sit on a special mat as they descend through a dark tube with LED lighting and creepy sound effects. It's really not that scary and makes a very efficient mode of travel between the Wipeout Bar at the slide's entrance and the bar at Sabor, where they make really tasty margaritas. The minimum height is 44 inches to ride the Ultimate Abyss…taller than that to get margaritas.
17. Get the Drink of the Day – Every Day
Every day onboard your sailing, Harmony will have a signature drink for you to enjoy. Often times this is a frozen concoction to help beat back the heat waves on the upper decks. Some of the more famous drinks of the day are:
Coco Loco: Rum, cream of coconut, pineapple and orange juices, grenadine, banana
Labadoozie: This is always the drink of the day when visiting Royal Caribbean's Labadee, one of Royal Caribbean's private destinations. This is one of the most popular drinks in the fleet. Rum; more rum; orange, pineapple, and papaya juice concentrate, coconut cream, grenadine.
Pirate's Hurricane: This is a non-frozen drink that includes spiced rum and vodka, peach schnapps, orange and pineapple juices, and Sprite.
You do have that drink package, right?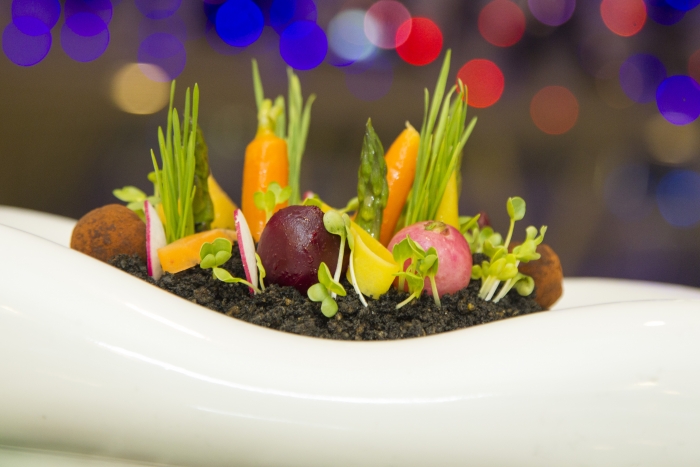 Specialty restaurants onboard Harmony of the Seas are all excellent, but eating at Wonderland is even more of a treat. The restaurant is themed after Alice in Wonderland, at least as close as they could get without violating intellectual property rights. The menu features creative dishes with themes of five natural elements: Sun, Fire, Sea, Earth, & Ice to make a dreamscape of dishes that you would only see once down the rabbit hole. But you won't actually need to choose from the menu. Your server will happily bring a variety of dishes to the table to be served family-style. Just have it all.
19. Take a Sushi Making Class at Izumi
My wife and son participated in this hands-on class during one of the sea days. Although not included in the base cruise fare, the report that I got from both of them is that they got their money's worth. Making the sushi was fun. Eating it was even more fun.
20. Get Margaritas and Fresh Guacamole at Sabor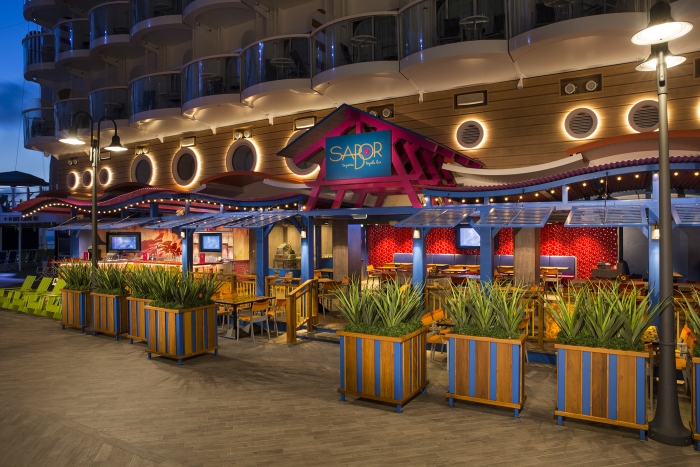 Royal Caribbean's specialty Mexican restaurant is headed for the graveyard. That's right. Sabor has been removed from most of the Royal Caribbean fleet and replaced with other venues. On Oasis-class ships, Playmakers Sports Bar has taken over its coveted position on the Boardwalk. While Harmony was scheduled to lose Sabor during a 2021 refurbishment, that work was put on hold due to the COVID-19 pandemic. So guests will have a little while longer to enjoy the unparalleled margarita menu and fresh guacamole.
21. Get Dressed Up for Formal Night
Nothing gets as much chatter on cruise-themed message boards and social media groups as the dress code onboard a cruise ship. Everyone seems to have a strong opinion, and the great thing about sailing on Harmony of the Seas, or just about any other ship, is that you have the choice to dress up or down as much as you like.
That being said, my wife and I both have pretty casual jobs. Quite honestly, I will frequently wear the same pair of jeans all week long. So when sailing on a cruise, I like the option to wear something nice and whatever other folks do is their business. But if you choose to dress up for dinner on Harmony, you won't feel out of place. Plenty of guests do and there will be plenty of photographers ready to snap a photo of you and your significant other.
Keep in mind, dress guidelines are for the main dining room only. Each of the specialty restaurants has its own guidelines. 
22. Sing Karaoke (or at least go and listen) at On-Air
If you've got the pipes, then give it a go. The On-Air club hosts karaoke every night and some of the talent can be pretty impressive. The On-Air Club is located on the Royal Promenade, and unlike karaoke night at the local bar on land, draws a sizable crowd every night.
23. Lose a Bunch of Money at Casino Royale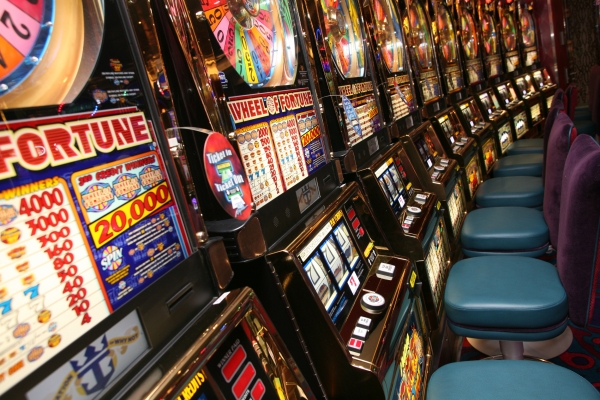 On the first cruise I ever took, I decided to try my luck at blackjack. I purchased $50 in chips and it took about 120 seconds to lose it all. After that, I came to the conclusion that gambling is not my forte, but if it's yours, then you will be able to press your luck every evening as well as on sea days. Casino Royale has a multitude of slots, blackjack, craps, roulette, poker, and sports betting.
24. Go on a Harmony of the Seas Pub Crawl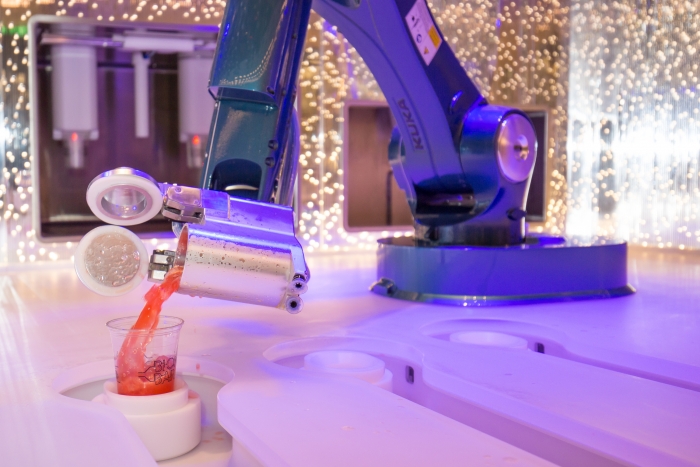 The great thing about a pub crawl on a cruise ship is that nobody is driving anywhere. If you have the fortitude (and the drink package), then you can make it a goal to grab a drink from all 13 bars onboard Harmony of the Seas in a single day. Of course, not all bars are open in the morning, and not all are open past dinnertime, so you will have to start early.
A Bloody Mary or Mimosa at breakfast in the main dining room is a great way to kick off this quest. It's not that big of a challenge if you start early enough. 
Go for it. I'm pulling for you!
25. Play Trivia at the Schooner Bar
One activity that can always be found on a near-daily basis is trivia. The nautical-themed Schooner Bar is a staple on all Royal Caribbean ships. Located just above the Royal Promenade, the lounge-like atmosphere is perfect for hosting mellow games and activities. Here, guests can find general and themed trivia on several afternoons. Our teenagers helped us out with the Harry Potter trivia session.
The Schooner bar is also a great place to find some of your favorite cocktails as well as some unique to Royal Caribbean. They have five variations of Old Fashioned, several Collins Drinks, Daiquiris, a decent wine list, and the drink of the day.
26. Hang out in the Cantilevered Hot Tubs at Night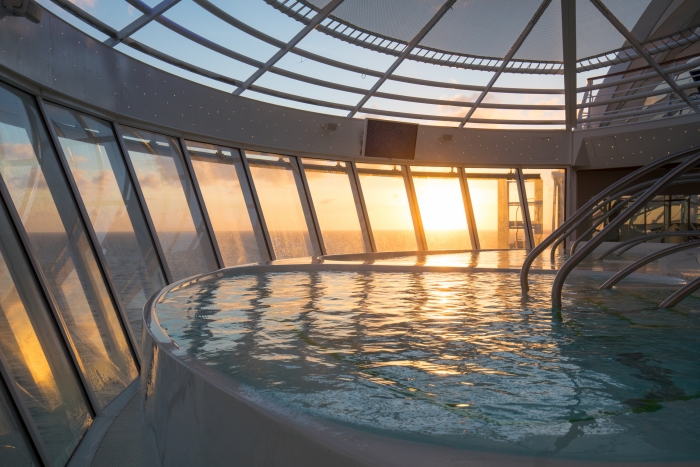 During the day, the pool deck can be quite crowded, and sitting elbow to elbow with a tubful of drunk strangers can be anything but relaxing. However, at night those folks are at the Royal Promenade bars or watching the shows, leaving the hot tubs relatively free. The cantilevered hot tubs extend over the side of the ship, and although you won't be able to see much of the ocean at night, you can see the outside of the ship itself. These are the most comfortable hot tubs on board.
27. Take a Salsa Dancing Class
Bolero's is the latin themed club on board Harmony of the Seas, and sometime early in the cruise, a few salsa dancing classes are hosted here. My wife and I took this class on Day 1 of our cruise, and we were able to put the moves to use later on that evening. I think I did pretty well. But then again, it may have been the mojitos. I always dance better after several drinks.
28. Chill Out Under the Stars at Central Park
Watch this video on how Central Park is engineered.
For many first-time cruisers onboard an Oasis-class ship, Central Park is a favorite location, possibly due to the absence of anything like it on any other class of ship. Located in the hollowed-out interior of the ship, several specialty restaurants are located here, along with the laid-back Trellis Bar and Vintages wine bar. Outside of lunch and dinner hours, Central Park is rather empty. If you are looking for a low-key evening to enjoy a book outside or browse on your laptop a bit, this is the place to do it. Royal Caribbean has gone to great lengths to give this area a true park-like atmosphere, including live trees and greenery and even piping in bird songs during the day.  
This is only a partial list of things to do onboard Harmony of the Seas during a typical seven-night sailing. If you have a favorite activity that's not listed here, please drop it in the comments section. 
Cheers.
Harmony of the Seas vs Symphony of the Seas: What's the difference? This article should give you a clear understanding...
The thought of slowly rocking in a hammock along a pristine Caribbean coastline, sipping on frozen drinks while...
No Results Found
The page you requested could not be found. Try refining your search, or use the navigation above to locate the post.